Description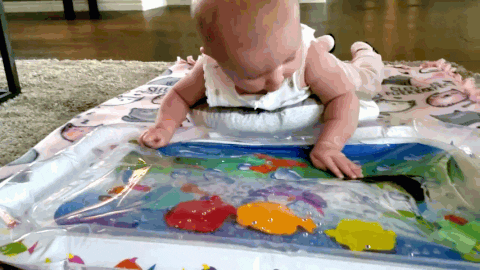 Looking for a fun and stimulating toy for your baby? This Baby Water Mat is your best choice!
SUPREME QUALITY AND ATTENTION TO DETAIL IS OUR PROMISE . This water splash pad play mat is constructed from HEAVY DUTY PVC that has been thoroughly tested and will NOT LEAK air or water PERIOD!! 
 
The most stimulating toy a baby can have!
Now your baby can swim in a colorful sea world right in the middle of your living room! If you're looking for a fun, stimulating, and entertaining activity for tummy time, the Baby Inflatable Water Mat is a perfect choice! 
This interactive, water mat toy will help strengthen your baby's legs and armswhile encouraging and promoting the development of essential skills. Look no further if you're searching for an entertaining and interesting toy for your child!
Why Choose Our Baby Inflatable Aquarium Water Mat?
 
Because it's so entertaining watching your baby have fun squeezing, squishing and pressing the water mat while trying to move the colorful fish around!
And we know that you don't have the time or energy to clean up after leaky mats. That's why our mom-approved water mat is 100% leak proof!
Bring the aquarium to them! While nurturing, stimulating, and challenging their mind and body. Simply inflate the border, then fill the mat with tap water from your sink and then seal it with the Plug. 
There are fish and some stars that float around in the mat for your baby to push and try to grab